Lost Camo® Latest News
Find out the latest Lost Camo® news right here! Whether it's an update from Lost Camo® hunters in the field or a new product announcement we'll make sure to keep your finger on the Lost Camo® pulse.
ARROWS AND ACCESSORIES GEAR GUIDE
ARROWS AND ACCESSORIES GEAR GUIDE
By lostadmin | Jan 24, 2012
ARROWS AND ACCESSORIES GEAR GUIDE
By Tracy Breen
Arrows and arrow accessories are items bowhunters always seem to need. Whether we are replacing broken arrows or interested in the latest broadhead design, we always stop by the pro shop to check out the latest and greatest in technology. Below are some of the latest and greatest arrows and accessories that are available in Lost Camo or are a Mathews licensed product. Be sure to check these products out at your local Mathews dealer.
GOLD TIP XT HUNTER

If you are looking for an accurate carbon arrow, check out the new Gold Tip XT Hunter carbon arrow that comes with Smart Carbon construction. A smart carbon arrow shaft reportedly remains straight shot after shot. Over time, it is said that some carbon shafts don't remain straight as a result of being shot over and over. With Smart Carbon construction, that problem is a thing of the past. The XT Hunter has a straightness tolerance of +/- .003 and a weight tolerance of +/- 2 grains.
CARBON EXPRESS MAXIMA HUNTER

The Carbon Express Maxima Hunter comes with a wide variety of features that make it one of the most popular carbon arrows today. Key features include Dual Spine Weight Forward Technology resulting in long range accuracy and rapid arrow recovery in flight. The Maxima comes with Buff Tuff carbon weaving which provides amazing strength and durability. In addition, the arrow comes with the BullDog nock collar which adds even more strength and durability. The Mathews addition Maxima Hunter has a straightness tolerance of +/-.0025 and a weight tolerance of +/- 1 grain.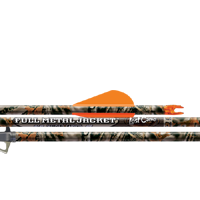 EASTON FULL METAL JACKET
The Full Metal Jacket from Easton Archery is built to deliver knock down power. At the heart of the shaft is a carbon core for extra strength and less vibration. The carbon core is wrapped in an aerospace alloy full metal jacket for increased kinetic energy which is said to bring big game animals down quickly. Another advantage of the full metal jacket is it can easily be removed from a target. The Full Metal Jacket has a straightness of +/- .002.
VICTORY ARCHERY VAP
Victory Archery is offering the Mathews Edition VAP which stands for Victory Armour Piecing (VAP). This arrow has an extremely small diameter and a thick wall which can result in greater penetration and speed. The VAP arrow comes with a unique Penetrator Broadhead Adapter so broadheads can screw in flush with the arrow shaft. This all carbon shaft comes with Victory Archery's exclusive ICE arrow coating for easy target removal. The VAP arrow has a weight tolerance of +/- 0.5 grains and a straightness tolerance of +/- .001, .003 or .006.
NORWAY INDUSTRIES MATHEWS FUSION VANE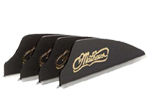 Norway Industries has teamed up with Mathews to offer a Mathews logo vane. The Fusion vane sports a 2" long, high-profile design based upon the increasingly popular footprint of today's short vane designs. With a profile similar to a traditional shield cut, the modified silhouette increases the surface area of the most critical point to the vanes' anatomy. This unique design minimizes crosswind interference while maximizing broadhead flight and arrow stabilization. The Mathews logo vane proudly displays the Mathews logo on every vane.
NUFLETCH SPECTRUM
The NuFletch Spectrum is a great option for bowhunters who want to quickly and easily replace arrow vanes without refletching them. The NuFletch Spectrum is a machined aluminum ferrule with slits or grooves in it that accepts arrow vanes that get screwed into the nock end of the arrow. First, cut your shaft 3-1/2 inches shorter than normal and glue an insert into the nock end of the shaft. Next, screw the sleeve into the insert, slide a vane into each slit and screw on a cap that comes complete with a nock and you are ready to shoot. The biggest benefit of this system is the fact that if you rip a vane or want to change the colors of the vanes you are using, simply unscrew the cap, take out the old vane and put in a new one. The NuFletch System is available for a variety of vanes including Fusion and Blazer Vanes. They make a variety of sizes for different types of arrow shafts. The NuFletch Spectrum comes in Lost Camo.
BURT COYOTE LUMENOK

Seeing where your arrow goes after the shot can aid in animal recovery. The Lumenok from Burt Coyote is a lighted nock that will help you see where your arrow is going. The lighted Lumenok is available in a wide variety of colors and fits the Mathews Edition Carbon Express arrows.
EASY-EYE ARROW WRAPS

If you want your arrows to look classy and stand out from the crowd, check out Easy-Eye Arrow Wraps. The wraps are available in 4-inch and 7-inch versions. Mathews Z7, Jewel, Helim and other Mathews wraps are available.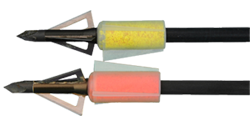 ALLUM A NIGHT
We have all had trouble tracking game at one point or another. The new Allum A Night system will make finding critters after the shot much easier. Allum A Night is a cartridge that fits onto the arrow shaft behind the broadhead that is full of tiny dots that glow. When you hit an animal, the cartridge explodes when i t hits the animal. As the animal runs off, the tiny glow dots fall onto the ground leaving behind a trail of glow dots. The dots can be easily seen with a LED tracking light. When you don't have a good blood trail, simply follow the glow dots to your animal.
TROPHY TAKER EDGE BROADHEAD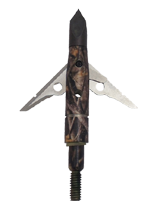 Trophy Taker has a new broadhead that comes in Lost Camo called the Edge. This mechanical broadhead comes with a patent pending blade deployment and locking system that ensures the blades open upon impact. The rear deploying two blade Edge has a 1.5-inch cutting diameter, comes with a bone crushing trocar tip and shoots like a field point.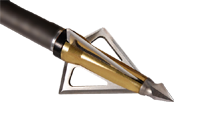 GRIM REAPER MATHEWS EDITION FIXED BLADE
Grim Reaper is best known for making deadly mechanical broadheads but they also make a deadly fixed blade. The Mathews Edition fixed blade comes with AIRFOIL Technology. The Trailing edge of blades are razor sharp and reduce noise and improve flight. It also has the added benefit of a blade that cuts going in and coming out for maximum effectiveness. It is a 3-blade broadhead and has a 1-3/16 inch cut.