Lost Camo® Latest News
Find out the latest Lost Camo® news right here! Whether it's an update from Lost Camo® hunters in the field or a new product announcement we'll make sure to keep your finger on the Lost Camo® pulse.
Must Have Spring Turkey Gear
Must Have Spring Turkey Gear
By TRACY BREEN | Mar 28, 2013
Must Have Spring Turkey Gear
BY TRACY BREEN
Bowhunting for turkeys can be very exciting. Turkeys are a challenging animal to chase with archery gear. Their keen sense of eyesight coupled with their spooking temperament makes them difficult to kill. Below are a few Lost Camo items that can help put the odds in your favor when chasing longbeards.
RHINO XP-1 POPUP BLIND
Many turkey hunters go home empty-handed because a turkey eyes often catch a bowhunter trying to draw a bow and run off. One way to solve this problem by using a pop-up ground blind. Turkeys don't seem to pay much attention to ground blinds, which makes them the perfect turkey hunting accessory for bowhunters. The Rhino XP-1 Evolution blind is a pop-up blind that will work perfectly for bowhunters. This blind has fully adjustable 180-degree front windows. It has multiple windows on the rear to give you 360 degree viewing so a wise old tom can't slip through the back door without you knowing it. It comes with replaceable shoot-through netting so you can draw the bow without being seen. The blind weighs approximately 20 pounds, center height: 69", shooting width: 80", floor space 5"x 5", and comes in Mathews Lost Camo. www.rhinoutdoors.com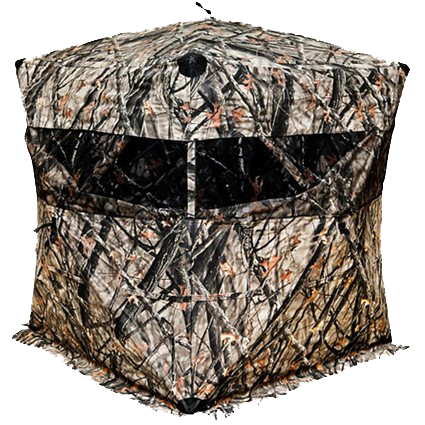 AWAY TURKEY TROOPER
A gobbling tom makes turkey hunting fun. If you are in the market for a new call and don't want to hassle with mastering a mouth call, check out the Away Turkey Trooper 2000. This push-button call can be mastered in minutes, has a volume control, is made out of a walnut and has a mistake-free cluck button so you can create perfect clucks repeatedly. www.awayhunting.com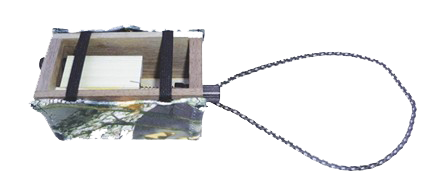 ILLUSION LOST CAMO GLASS POT CALL
Illusion Game Call Systems makes a great glass call that is the perfect accessory for hardcore turkey hunters. Glass calls can be used in all weather, making them a great call for the bowhunter who is willing to hunt in rainy weather. This call comes with a custom cut diamond wood striker, has built-in acoustical performance and comes in Lost Camo. www.illusionsystems.com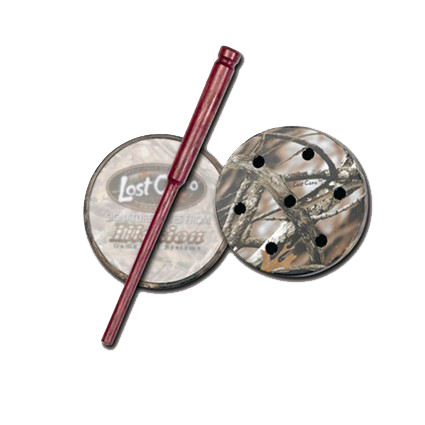 MASTER TARGET TURKEY TARGET
Turkeys have a small vital area and knowing exactly where to aim is necessary when bowhunting turkeys. Master Target makes a very durable face target that can be pinned to any block style target. The target clearly shows the vitals of a tom. The Master Target Turkey target comes in Lost Camo with the Mathews logo printed on it. Each Master Target face can withstand up to 400 shots from an arrow tipped with a field point. www.master-target.com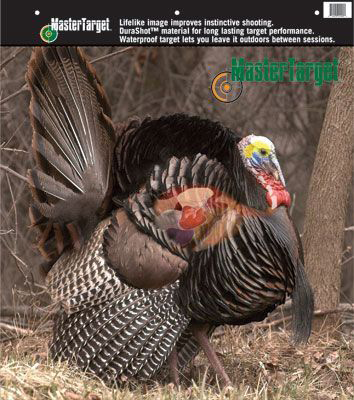 EZ HUNT & HAUL BLIND
Most bowhunters enjoy hunting from a ground blind from time to time, either for deer or turkeys. The new EZ Hunt & Haul Trailer is like a ground blind on steroids. The EZ Hunt & Haul is a hard-sided trailer that comes in Lost Camo. The trailer can be used as a field hunting blind for geese and ducks and as an ice fishing shanty. It even has a doggy door. In addition, the blind is collapsible and can be used as an ATV trailer. When you are done using the blind, break it down, load your ATV and you are ready for a road trip. This blind is the perfect blind for the hardcore turkey hunter. www.ezhunthaul.com.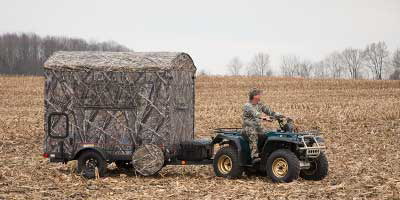 QUICKCAMO CAP/FACE MASK
I can't tell you how many times I have lost a face mask while turkey hunting. QuickCamo makes a cap/mask combo that eliminates the problem. The face mask is built into the cap so you don't have to worry about taking your face mask on and off and potentially losing it in the woods. When not in use, the mask tucks into the cap out of the way. www.quikcamo.com.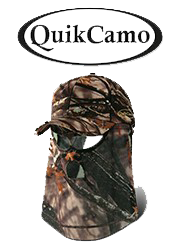 GRIM REAPER MATHEWS EDITION
Mechanical broadheads quickly bring down gobblers because of their large cutting diameter. One mechanical broadhead that works well on turkeys and deer is the Mathews Edition Grim Reaper 3-blade broadhead. This broadhead has a 2-inch cutting diameter which will quickly make turkey dinner out of any gobbler. www.grimreaperbroadheads.com

ECLIPSE 3D LEAFY SUIT
Wearing the right camouflage is a necessity when turkey hunting because the eyes of a turkey are so amazing. One way to fool their eyes is by wearing a 3D camo suit. Eclipse Hunting Apparel offers a 3D leafy suit in Lost Camo. Most camouflage leafy suits are available in Realtree or Mossy Oak Camouflage. The Eclipse suit comes in Lost Camo. Believe it or not, it is made here in the U.S.A. Most hunting clothes are made in China. The fact that this 3D suit is made in the USA is reason enough to buy it! www.eclipsecamo.com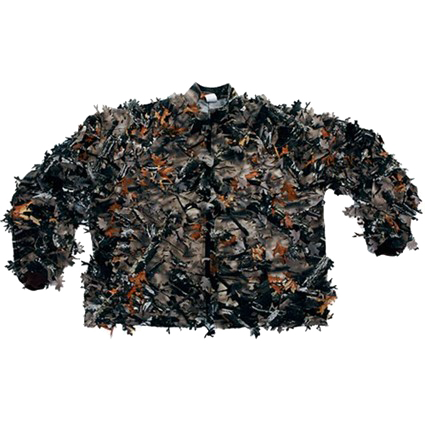 MATHEWS EDITION CARBON EXPRESS MAXIMA
Looking for a great turkey hunting arrow? Check out the Lost Camo Maxima Hunter from Carbon Express. Key features include Dual Spine Weight Forward Technology resulting in long range accuracy and rapid arrow recovery in flight. The Maxima comes with Buff Tuff carbon weaving which provides amazing strength and durability. In addition, the arrow comes with the BullDog nock collar which adds more strength and durability. The Mathews addition Maxima Hunter has a straightness tolerance of +/-.0025 and a weight tolerance of +/- 1 grain. www.carbonexpressarrows.com