Lost Camo® Latest News
Find out the latest Lost Camo® news right here! Whether it's an update from Lost Camo® hunters in the field or a new product announcement we'll make sure to keep your finger on the Lost Camo® pulse.
LOST CAMO CLOTHING
By lostadmin | Jul 31, 2012
LOST CAMO CLOTHING
By: Tracy Breen
Mathews has teamed up with the top clothing manufacturers in the outdoor industry. Below are some of the latest and greatest hunting garments you can buy that are available in Lost Camo and can be found at Mathews retailers across the country.
FACE MASKS
CN Tails
There are more women getting involved in hunting. There is now a face mask designed specifically for them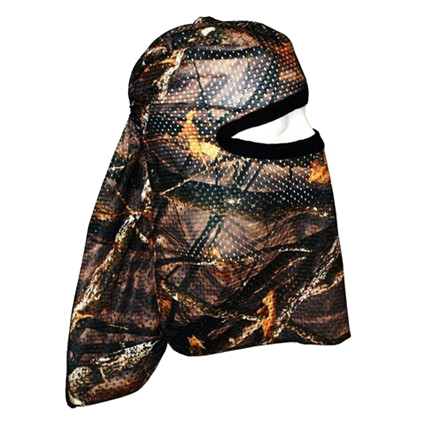 called the CN Tails Hunting Mask. The mask is made out of a variety of materials including netting and fleece. The mask is unique thanks to the ponytail hole in the back of the mask that has a built-in pony tail holder. Now women can quickly put on their hunting mask in the heat of the moment without spending lots of time fixing their hair.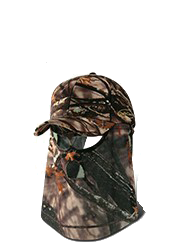 Quik Camo

You have probably lost a face mask or two while hunting. That won't happen with the Quik
Camo hat/face mask combo. The Quik Cam hat has a built-in face mask that drops down in front of your face when you need it. When you are walking to and from your hunting area, the mask can be folded up and out of the way in the cap.
CLOTHING
Eclipse Hunting Apparel
3D camouflage can help you blend in with the surroundings you are hunting in. Eclipse Hunting Apparel makes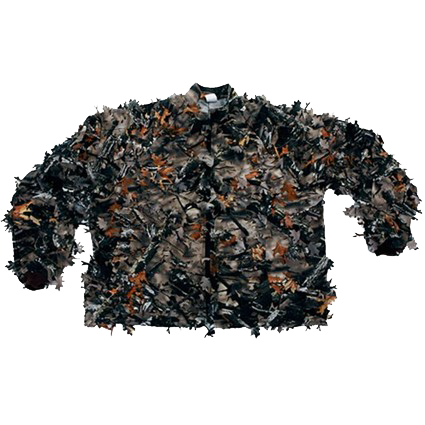 Lost Camo 3D leafy suits. The suits are lightweight which makes them a perfect choice for early season hunting. They can be worn over the top of your warmer clothes for late season hunting. The 3D leaves on the suit gently blow in the breeze, making you look like part of the landscape.
First Lite Wool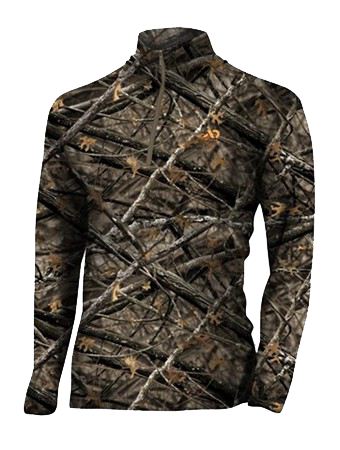 No question about it: one of the warmest things on earth is wool. If you want to stay warm while hunting, check out First Lite wool products. One of their best products is the Chama long sleeve Quarter Zip top that comes in Lost Camo and can be worn next to the skin as a part of the layering system or as a single layer. First Lite products are made from merino wool which is soft; not like many itchy wool garments.
Game Hide Drenalin Jacket
If you do much late season hunting, check out the Game Hide Drenalin Jacket. This jacket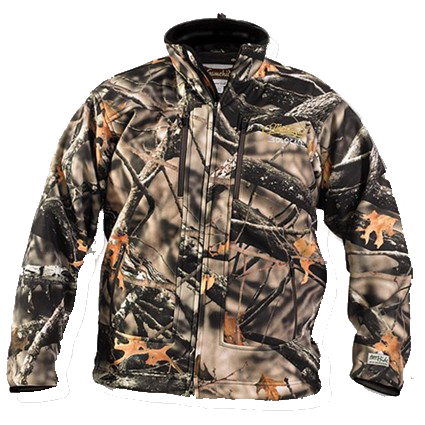 is lined in Scent-Lok and made of HyperHide which is a soft, quiet, warm, waterproof fleece. The jacket has fleece-lined hand warmer pockets and a zippered harness opening for a treestand safety harness. This jacket has it all.
Heater Body Suit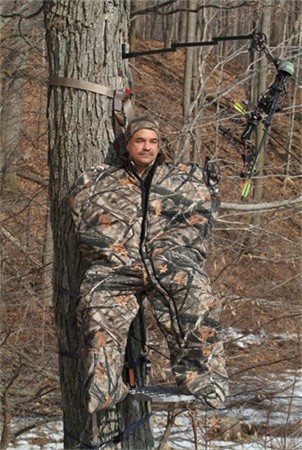 Sometimes several layers don't keep you warm. If that sounds familiar, consider the Heater Body Suit which was designed to keep you warm in extremely cold conditions. The Heater Body Suit is meant to be worn as an outer garment that gets partially removed at the
moment of truth so it is cumbersome or in the way when you shoot. The Heater Body Suit is made with a variety of materials including Polyester tricot, Lost camo cloth, DuPont Cloth and 300 grams 3M Thinsulate Insulation. The garment is treated with a water repellant. If you find yourself hunting in the North woods, this garment is for you.
Power Pleat Clothing
Power Pleat makes some unique hunting pants and shirts that come with a unique pleat built into the garment that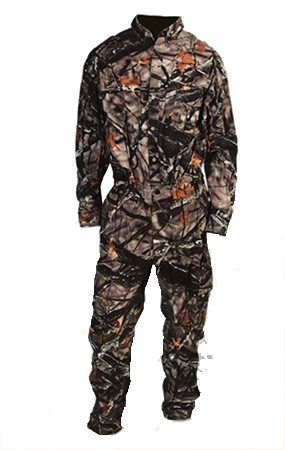 makes it difficult for deer to see the hunter. The Pleat in the clothing helps hunters blend in and outsmart the eyes of the whitetail. They offer a shirt and pants combo that works well in the early archery season.
Saction Systems - SacSuit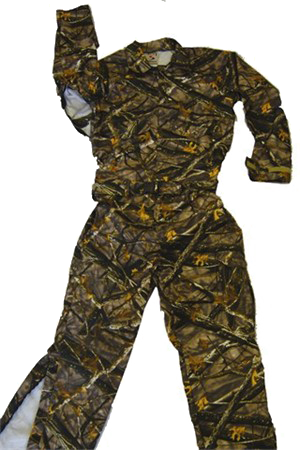 The SacSuit is a large one piece Lost Camo system that provides plenty of range of motion even while sitting. The suit has vents in the back and under the arms so hunters can stay cool in warm weather, and has plenty of extra room thanks to the outsized legs and arms. You can put on several layers under it when it gets cold outside. This is a perfect system for the person who lies to wear many layers under their outer layer.
Scent Blocker Solo XLT Jacket.
Scent Blocker has a solid reputation for making top of the line hunting products that are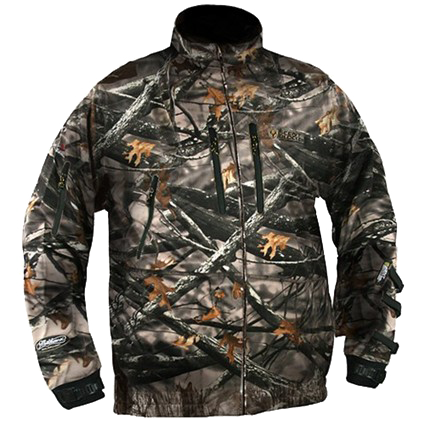 user-friendly and built to last. The Solo XLT Jacket is a great jacket for the serious whitetail hunter. It features activated carbon and antibacterial technology. The jacket is made of a stretch material that makes maneuvering in the jacket easy. It has several pockets for storing your extra gear and calls. The waist and wrist of the jacket can be adjusted so it can help keep the warmth in and the weather out.
True Timber Coretec Absolute Vest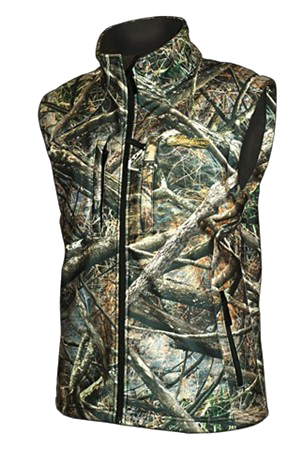 When the weather starts to get cold, a vest can help take the chill off. True Timber is offering the new Coretec Absolute Vest that will help to warm you up. The vest is 100% windproof, has a water-resistant outer shell and an antimicrobial fleece lining. In addition, it offers two slash hand warmer pockets and two vertical zip chest pockets. This is a great hunting vest.
ACCESSORIES
Delta Gear Contender
If you want to stay warm in the cold weather, you need the Delta Gear Contender which is a heating and warming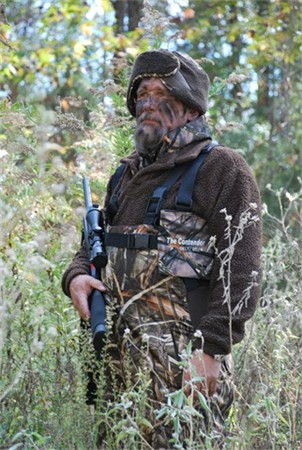 vest that is worn over the top or under your hunting clothes. The Contender contains heating packs that will keep you warm on the coldest days.
American Leather Klassics Belt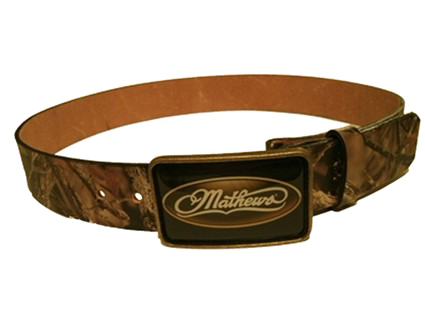 Your hunting outfit can be made complete with an American Leather Klassics leather belt that comes in Lost Camo. It can be purchased with a Mathews logo belt buckle or with another buckle, like a plain black buckle.
To learn more about the amazing Lost Camo products that are available, visit www.lostcamo.com.