Lost Camo® Latest News
Find out the latest Lost Camo® news right here! Whether it's an update from Lost Camo® hunters in the field or a new product announcement we'll make sure to keep your finger on the Lost Camo® pulse.
BOW STABILIZER ROUND UP
By lostadmin | Jun 14, 2012
BOW STABILIZER ROUND UP
By Tracy Breen
Nothing completes a Mathews bow like a state-of-the-art stabilizer. In the last several years, stabilizer companies have started manufacturing stabilizers that come with a Mathews Grid Lock pattern. Others are making them with built-in Harmonic Dampers and many companies are building stabilizers that come in Lost Camo. Regardless of which one you choose, one thing is certain. All the stabilizers listed below will look great on a Mathews bow.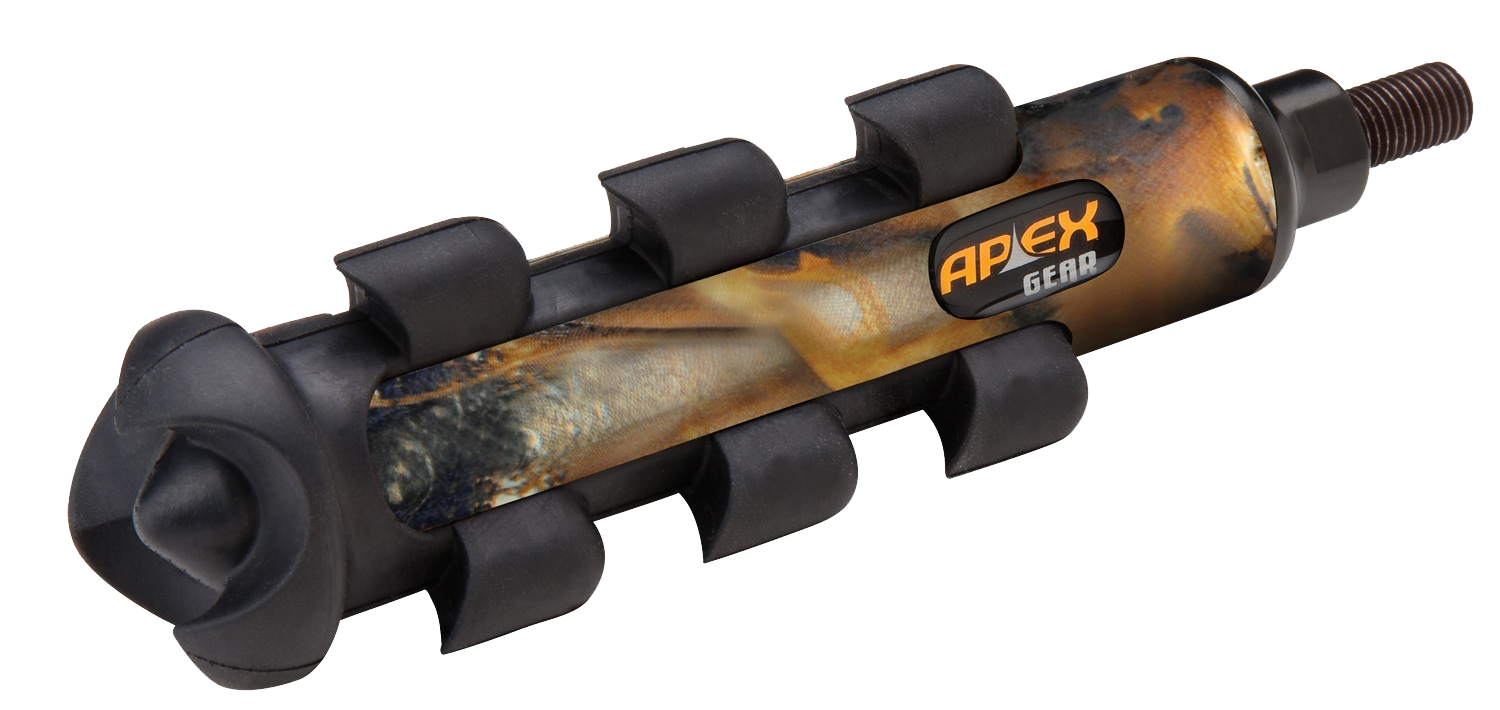 APEX GEAR PRO TUNE XS
Apex Gear has a new stabilizer called the Pro Tune XS. This stabilizer looks unique because of the rubber fins that decorate the top and bottom. The fins are more than just decoration; they disperse vibration when the bow is shot. The Stabilizer comes with a Tru-Touch coating that is soft and quiet to the touch. The Pro Tune XS is available in Realtree APG and Lost Camo.

AXION ARCHERY FUSION

Axion Archery has a new stabilizer called the Fusion that is functional and pleasing to the eye. The Fusion offers 80% less wind drag thanks to CNC side to side milled-through holes. The stabilizer reduces hand torque during the shot cycle and comes with one Mathews Harmonic Stabilizer and a Harmonic Damper that helps destroy noise and vibration. The Fusion is available in a 6-ounce and 8-ounce version. The Fusion is six inches long.

B-STINGER PRO HUNTER

The B-Stinger Pro Hunter has a unique look and technology to match. The long carbon tube has vibration dampening Sorbothane inserts that are added to minimize residual noise and vibrations. The stabilizer is tipped with a large stainless disc weightthat is specifically designed to stabilize and balance the bow. The Pro Hunter is available in a wide variety of Realtree Camo patterns, Lost Camo, and Black. The Pro Hunter can be purchased with different weights and lengths for a custom feel.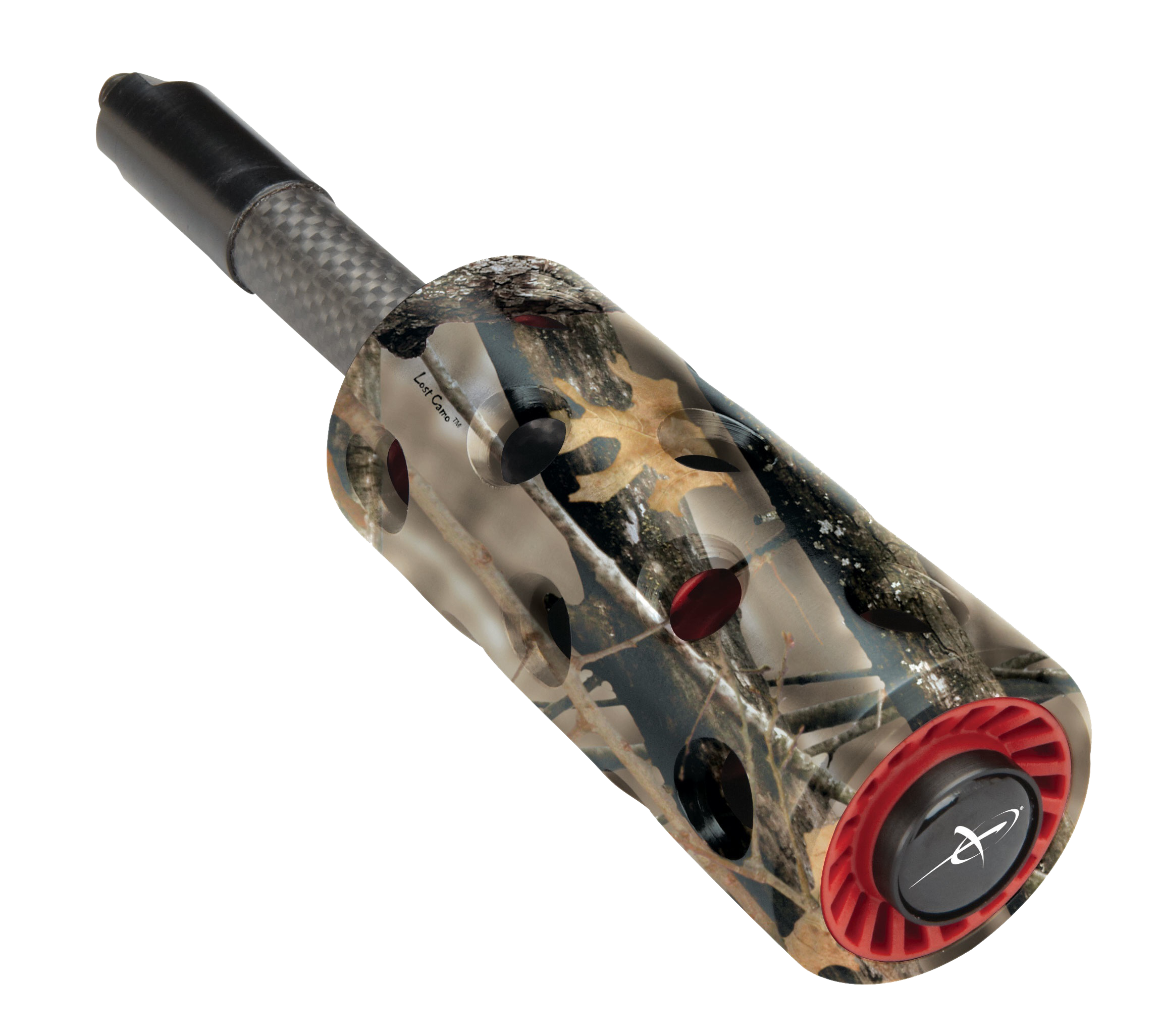 CARBON EXPRESSCARBRA MAX
Carbon Express has ventured into the stabilizer market with the Carbra Max. The body of the stabilizer is made of a carbon woven tube with an outer aluminum tube weight. The carbon and aluminum combination results in a super strong noise and vibration-killing stabilizer. It has three rubber vibration dampening modules that reduce vibration in all directions. It is available in Black, Mossy Oak and Lost Camo.
DOINKER DISH MINI HUNTER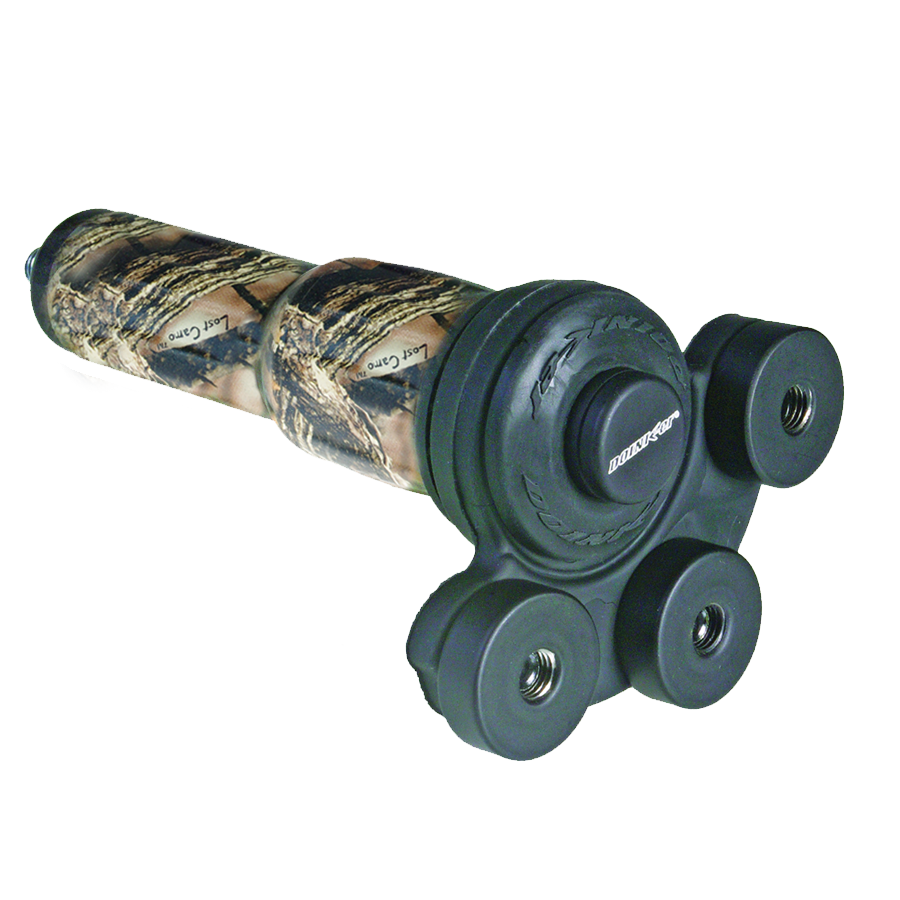 The Doinker Mini Dish Hunter looks like a stabilizer with a large dish or plate on the front of it. The 3-hole hub on the front of the stabilizer reduces noise and vibration and can be placed on the opposing side of the sight, quiver and rest, balancing out the bow for a more accurate shot. The stabilizer can be customized by adding small weights to the dish to eliminate vibration.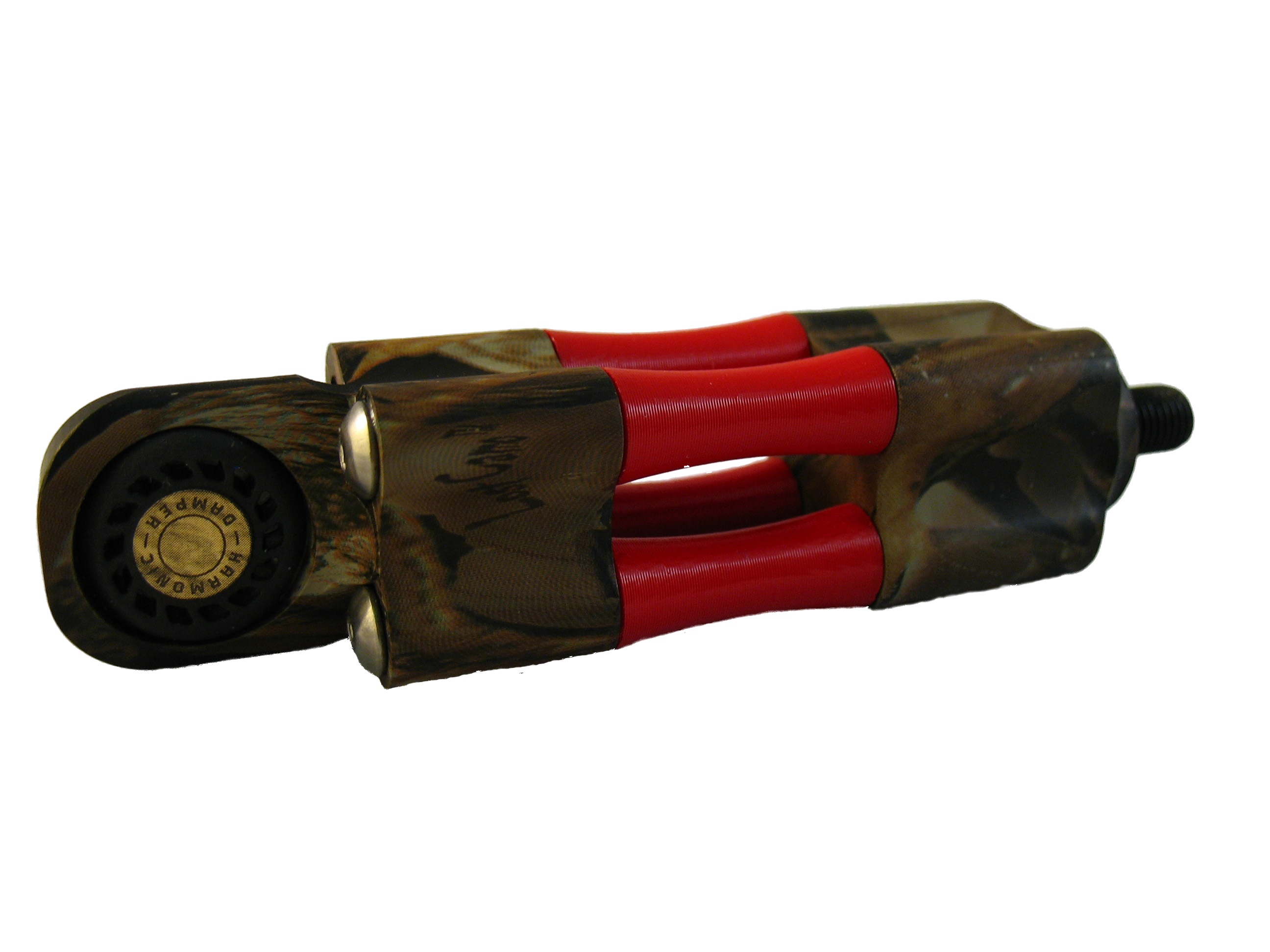 EXTREME ARCHERY TITAN X
If you want to give your bow a custom look, try the Titan X stabilizer from Extreme Archery. This stabilizer has an interchangeable harmonic damper and can be purchased in a wide variety of colors to match the accent colors on your bow. The Titan X is made of 100% machined aircraft aluminum.

HI-TEK QUAD STABILIZER
Hi-Tek Sports is offering the Quad Stabilizer that features their VOIDTechnology (Vibration Obstructing Intercepting Damper) which quickly eliminates vibration. The flexible dampener technology combined with four powder filled chambers give vibration a one-two punch. There are 9-inch and 11-inch versions available.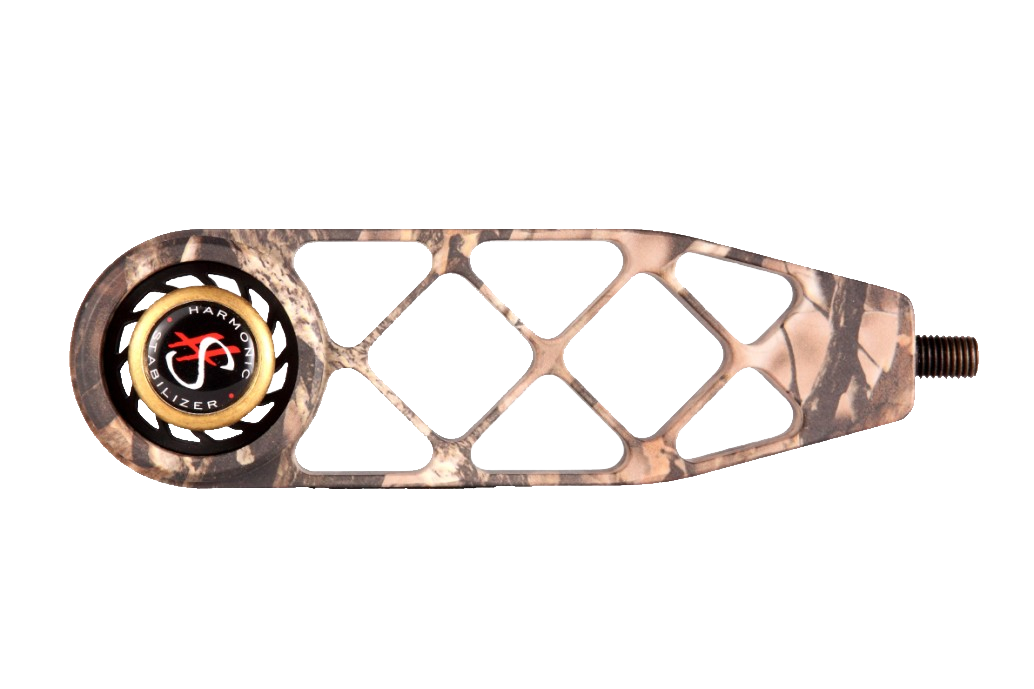 KTECH TECH
KTECH Designs has a new stabilizer called the TECH 5 Gridlock Stabilizer that is made with the Mathews Gridlock design and comes with a Harmonic Stabilizer or a Harmonic Damper built in. If purchased with the Stabilizer, the TECH 5 weighs 6.4 ounces. If purchased with a Damper, it weighs 4 ounces. This snazzy looking stabilizer is 5.6 inches long.

LIMBSAVER WINDJAMMER
The Windjammer Stabilizer from Limbsaver provides several options. The stabilizer comes with a front or rear

mounting balancing system that allows hunters to offset the quiver, sight and rest on their bow. The balancing system can be rotated 360 degrees so the stabilizer can be placed where the hunter wants it to balance the bow and reduce vibration. NAVCOM materials are what many Limbsaver products are made from due to their noise and vibration dampening qualities that are incorporated into the stabilizer. The Windjammer is available in Next G1 Camouflage or Black.
PINE RIDGE ARCHERY NITRO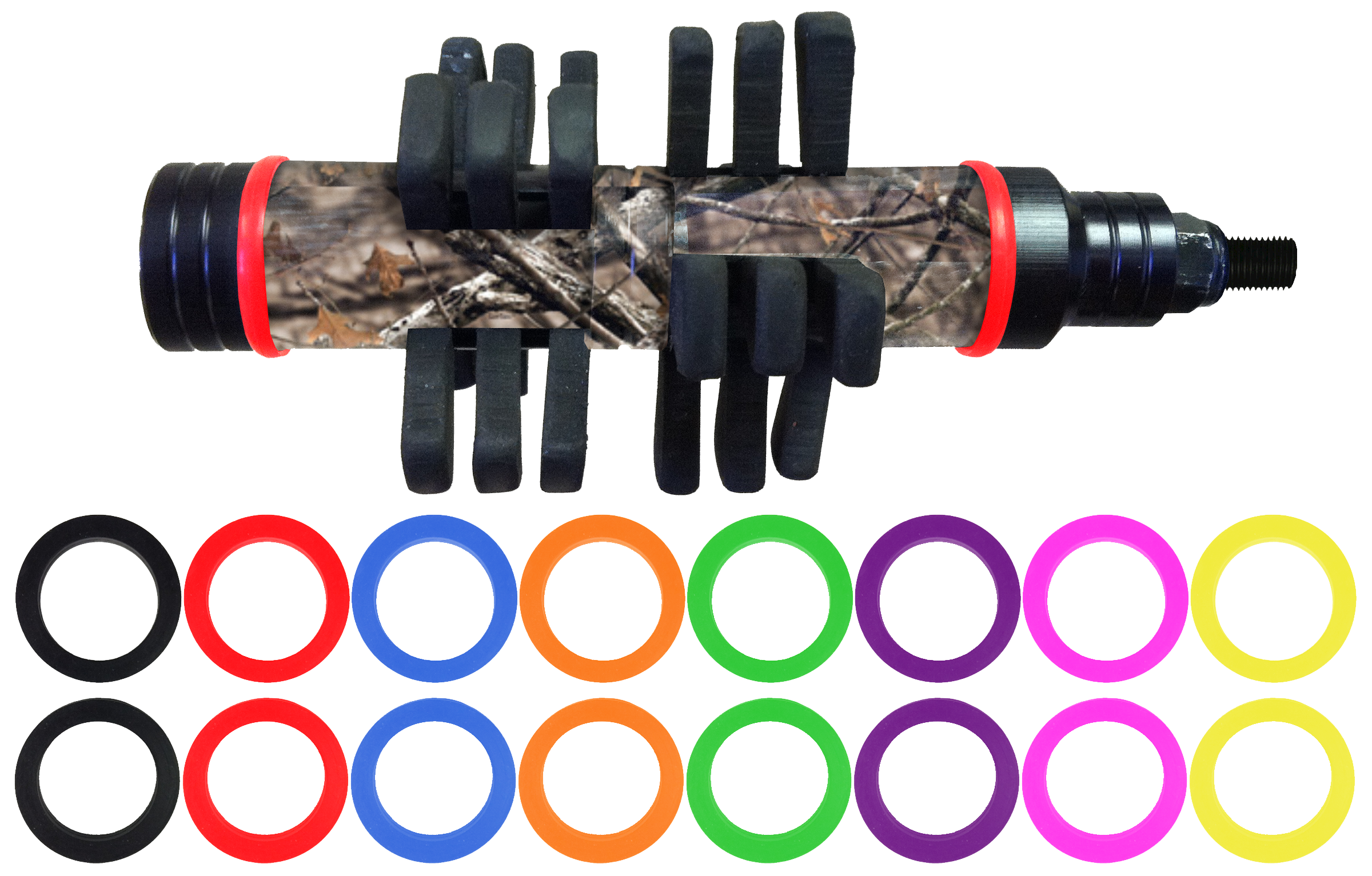 Pine Ridge Archery introduced an incredible stabilizer called the Nitro. This stabilizer comes with unique shock blades along the entire length of the stabilizer that squash vibration. This stabilizer has a solid core which aids in noise and vibration reduction. It can be purchased in eight different colors that accent the Lost Camo pattern. Models are available in 5.5-inch and 7.5-inch.
SPECIALTY ARCHERY FEATHERLIGHT STABILIZER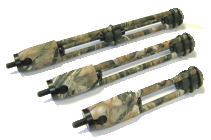 The Featherlight Stabilizer from Specialty Archery is made up of three high module carbon rods that are durable and lightweight. The weights inside the stabilizer are positioned within the stabilizer to balance the bow and help eliminate vibration. Each weight is in a Navcom slider which helps destroy vibration. The Featherlight has a machined aluminum base and comes with a quick disconnect for storage when putting a bow into a case. The Featherlight Hunter is available in a 6, 8- and 10-inch version.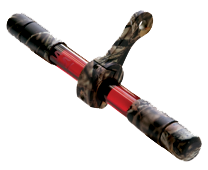 STOKERIZED STABILIZERS SS1
Stokerized Stabilizers is offering the SS1. This stabilizer is designed to offset the weight of the rest, sight and quiver to make bows perfectly balanced. It achieves this task by having a wide range of movability so you can move it and position it in different locations along the riser to fit your needs. It is weight adaptable, making this a stabilizer that can be truly customized. The SS1 is 9 inches long. It is available in Lost Camo, Realtree AP, APS, Max 1 and a variety of colors.
TRUGLO QD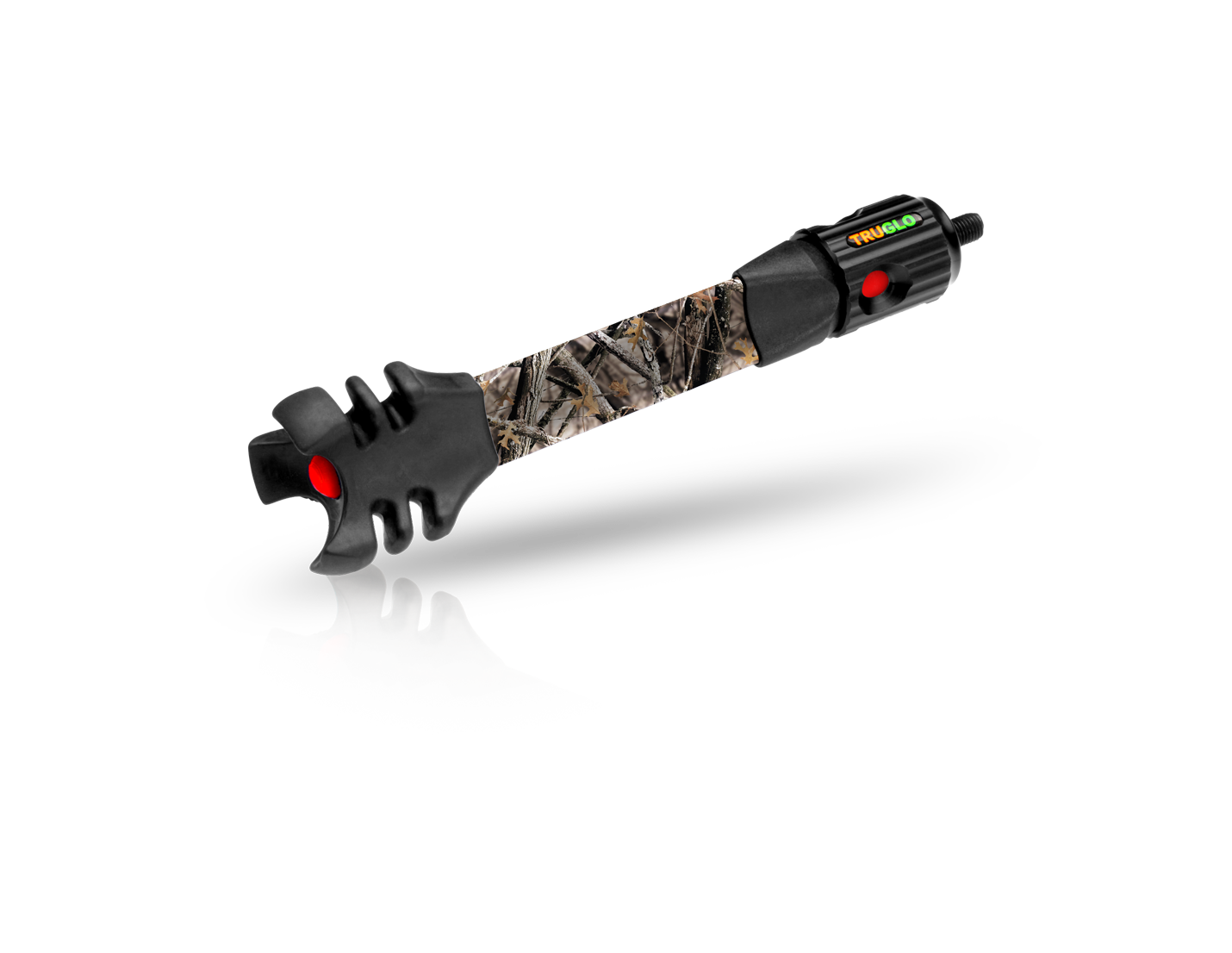 TRU GLO has a new stabilizer called the QD. It comes with a quick detach Twist Lock for quick and easy removal. It also comes coated in a TRU TOUCH coating that is soft and quiet, reducing noise. The stabilizer is made of performance-based composites for vibration and noise reduction. The QD is 7.8 inches long.
Vital X Gear
The Nomadic stabilizer from Vital X comes with an internal Mathews Damper and a grid lock cutout design. The Nomadic only weighs 5.5 ounces, making it the perfect stabilizer for bowhunters who prefer a lightweight setup.
X FACTOR STABILIZER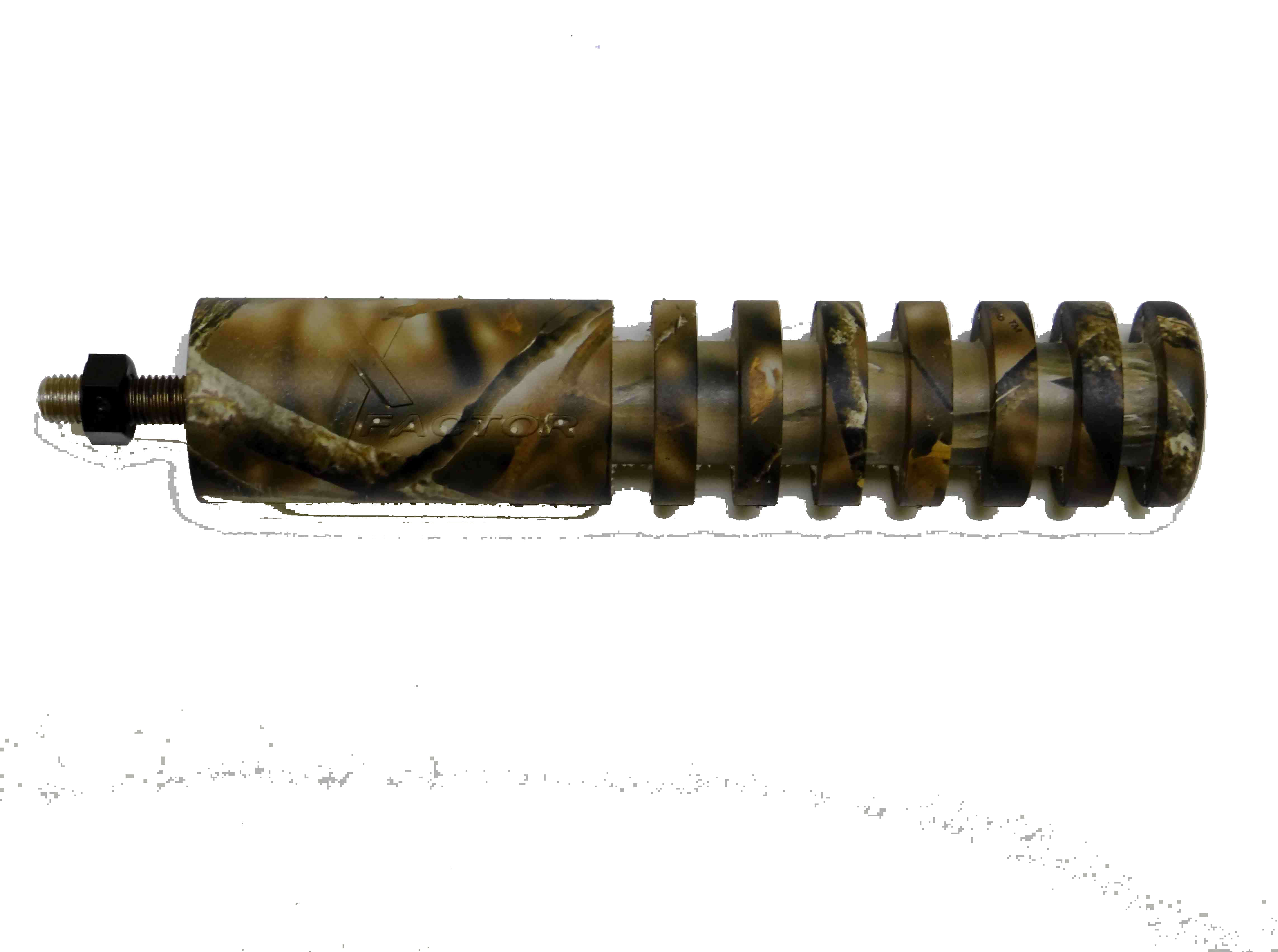 X Factor Outdoors offers the X Factor Stabilizer that is built with patented Shock Block Technology that helps eliminate noise and vibration. The adjustable stabilizer helps balance your bow while reducing noise. There are 6-inch and 8-inch versions available.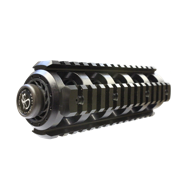 XTREME TACTICAL ARCHERY GEAR TACULIZER
Xtreme Tactical Archery Gear is a new company that makes tactical stabilizers. This unique stabilizer has four Picatinny rails on it that allow hunters to attach a variety of accessories to it including a light, a laser, a bipod and a camera. Xtreme Stabilizers utilize Mathews Harmonic Dampers and stabilizers to eliminate bow noise and vibration. BowTac Stabilizers are available in a few models including Taculizer TS3 which weighs 8 ounces, is 6 inches long and comes in black and Lost Camo.