Lost Camo® Latest News
Find out the latest Lost Camo® news right here! Whether it's an update from Lost Camo® hunters in the field or a new product announcement we'll make sure to keep your finger on the Lost Camo® pulse.
LOST CAMO BOW SIGHTS
By lostadmin | Apr 23, 2012
LOST CAMO BOW SIGHTS
More and more companies are making top notch bow sights with micro adjustments, built-in lights and radical designs that catch the eye and aid in long-range accuracy. Many companies are offering bow sights in Lost Camo so your bow sight can match your new Mathews bow. Below are the latest and greatest bow sights that are available in Lost Camo or come with other Mathews innovation including a Grid Lock design or Harmonic Dampers.

APEX GAME CHANGER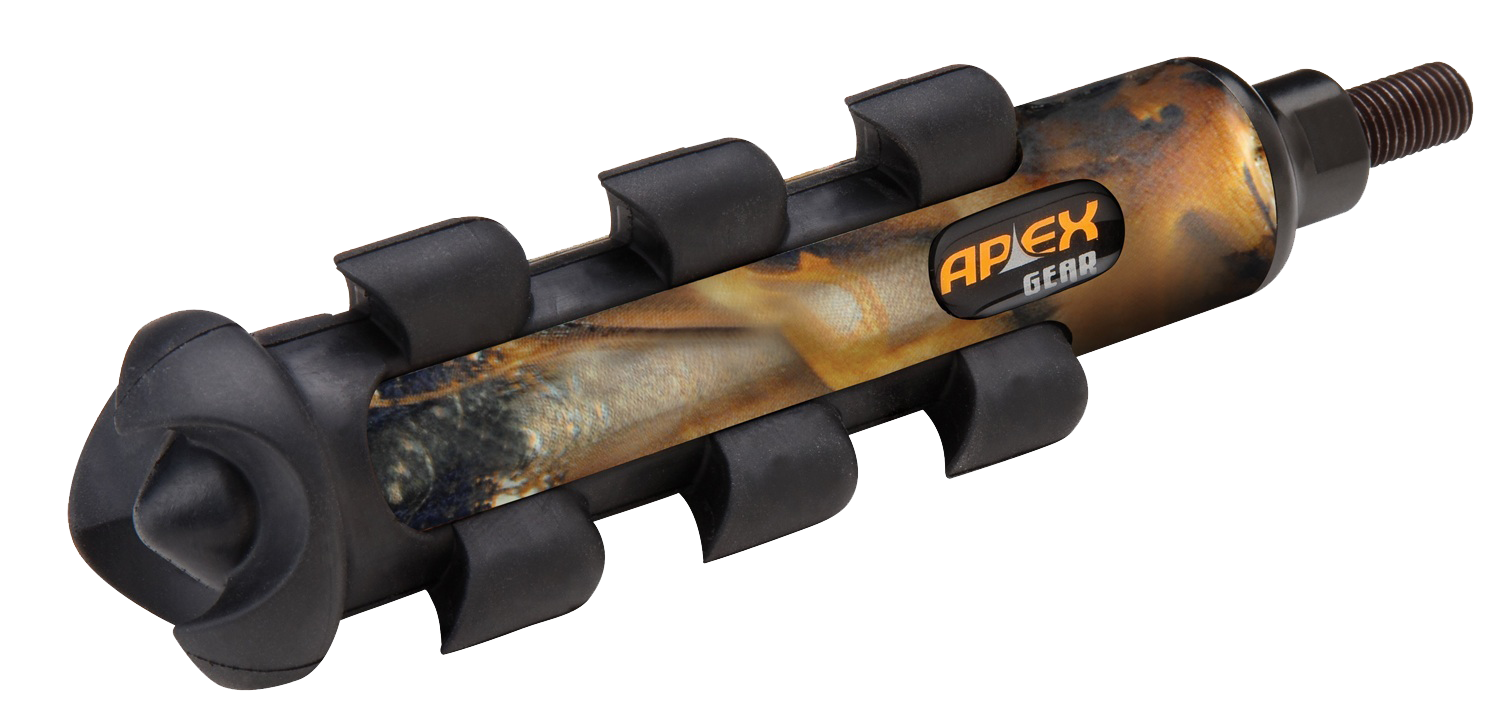 Apex Gear has a 5-pin sight called the Game Changer that has many bowhunter-friendly features including the new TRU. ZERO pin design which is said to minimize pin gap issues. The sight comes with TRU.FLO technology which allows for quick and easy changing of fiber optic without having to change the pins. It comes with ultra fine micro adjustments for windage and elevation and has a micro push button light. It also has a second and third axis level for increased accuracy. This sight has it all.
AXCEL ARMORTECH HD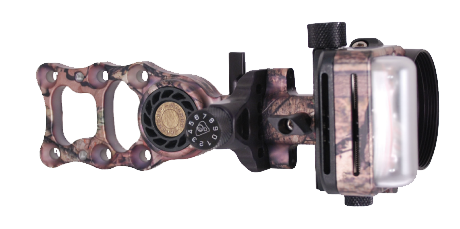 The Axcel Armortech HD sight is built by Tru-Ball release company and is built with the serious bowhunter and archer in mind. The sight comes with Axcel's Armor Fiber Technology which keeps the fiber optic completely protected throughout the length of the fiber. Armortech sights come with a Mathews Harmonic Damper that destroys noise and vibration. The sight boasts clink gang adjustment for windage and elevation and has second and third axis adjustments. Amortech sights are available in four, five, and seven-pin models and .010", .019" and .029" fiber sizes. The ArmorTech is available in an HD Pro Version that has a micro adjustable dovetail bracket for perfect peep-to-scope housing alignment.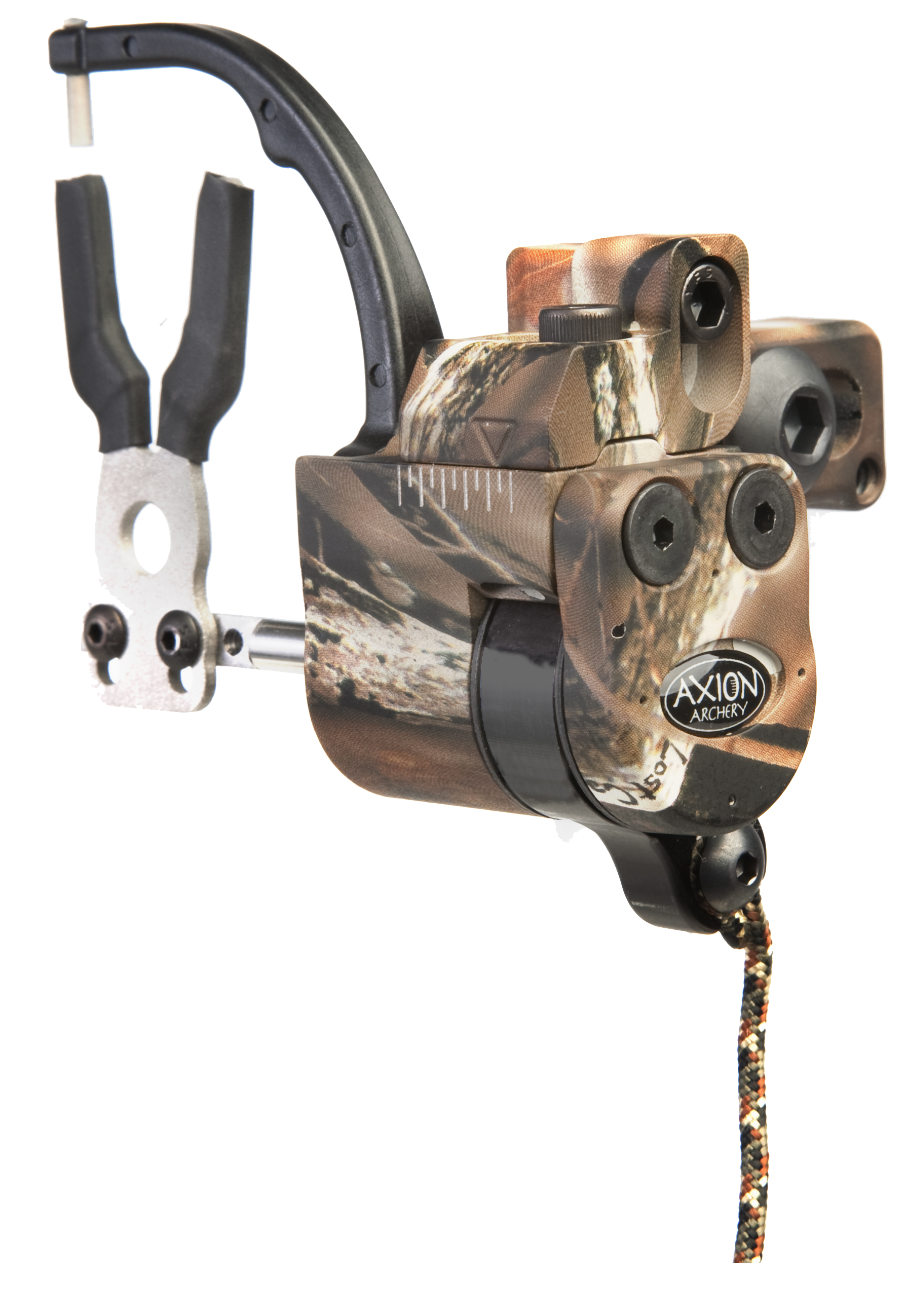 AXION ARCHERY GLX
Axion Archery is known for making eye catching bow sights that look great and are very functional. One great looking sight from Axion that you may want to check out is the GLX. This sight comes with a Grid Lock design similar to the one found on all Mathews risers. Some of the features on this bow include staggered mounting holes for more adjustability, dovetail windage and elevation adjustments, built-in Mathews Harmonic Dampers and a blue light for seeing in low-light conditions. This lightweight CNC-machined aluminum sight tips the scales at 7.2 ounces. The sight has easy change pins and a 2" aperture which makes seeing what you are aiming at easy.
BLACK GOLD AMP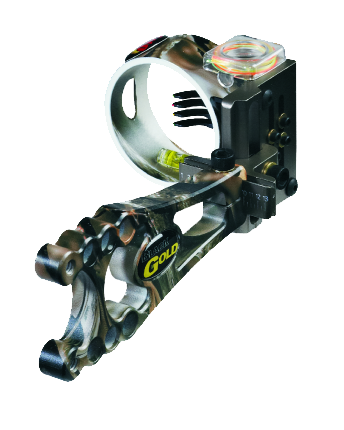 Black Gold Sights are known for being super bright and super tough. The New Black Gold Amp is no exception. This sight comes with Mini-Skycoil technology which ensures the pins on the sight are extra bright in low light conditions which is when most critters are killed. This sight is economical, built to last and available with 3-, 4-or 5 pins.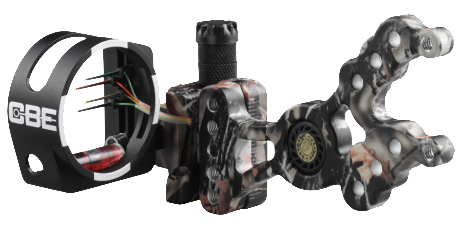 CBE SNIPER LC
Custom Bow Equipment (CBE), a division of Scott Archery, is offering the Sniper LC this year. This sight comes with a three-setting rheostat light for adjustable pin brightness setting which is perfect for hunters who hunt from blinds or who are trying to hunt until the last bit of light is gone. This sight is available with four ultra fine metal pins. A XL version is also available and comes with five pins. The sight also comes with a Mathews Harmonic Damper.
COBRA BUSHWHACKER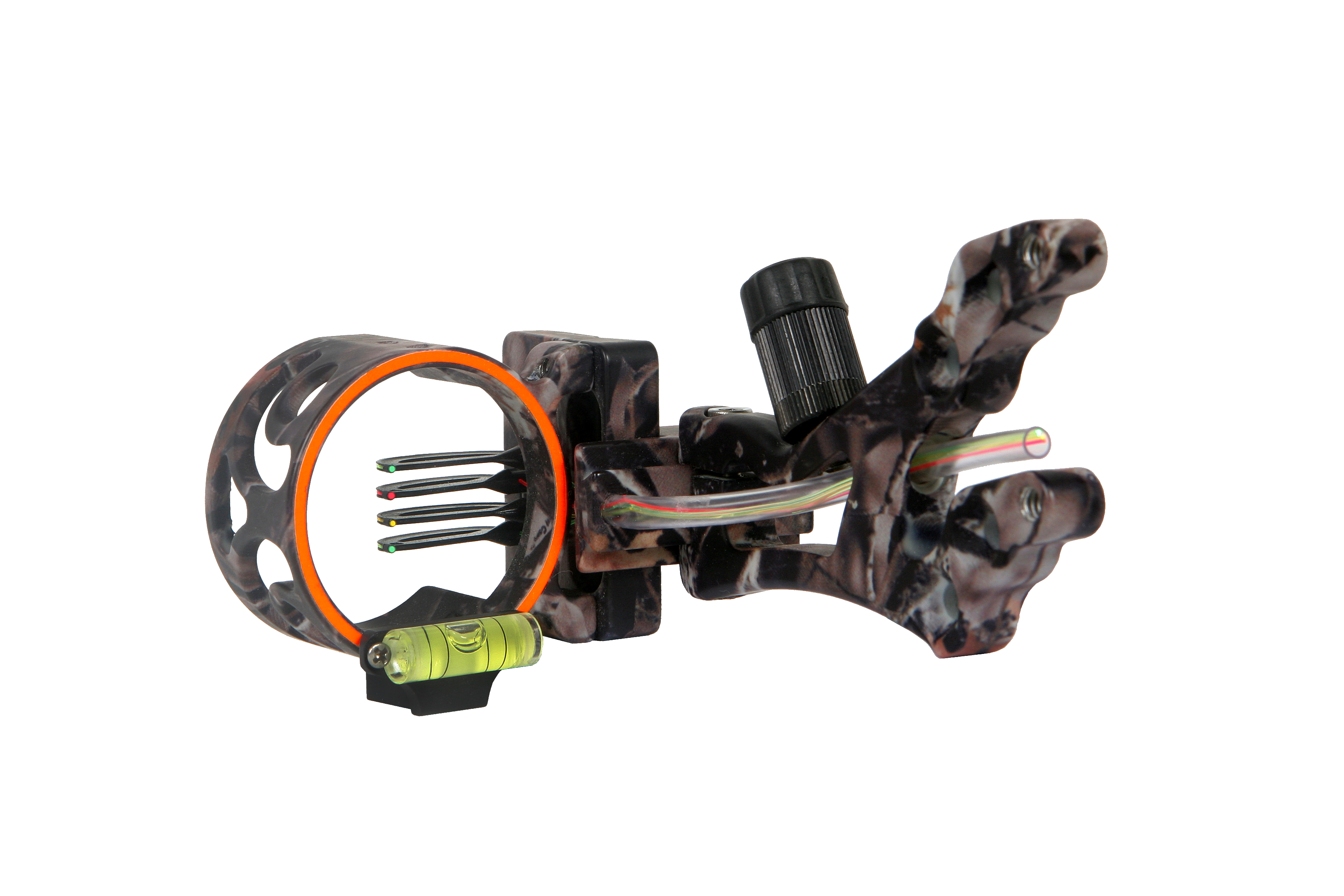 Bowhunters looking for a simple yet effective bow sight should check out the Cobra BushWhacker. This sight comes with an all-metal sight guard so it can handle anything you dish out with having to worry about breaking the all metal pins. The sight offers a wide range of windage and elevation adjustment, a third axis bubble level and weighs only 4.4 ounces so it won't weigh down your bow. The sight can be purchased with a light which makes this sight perfect for low light hunting or hunting from a ground blind.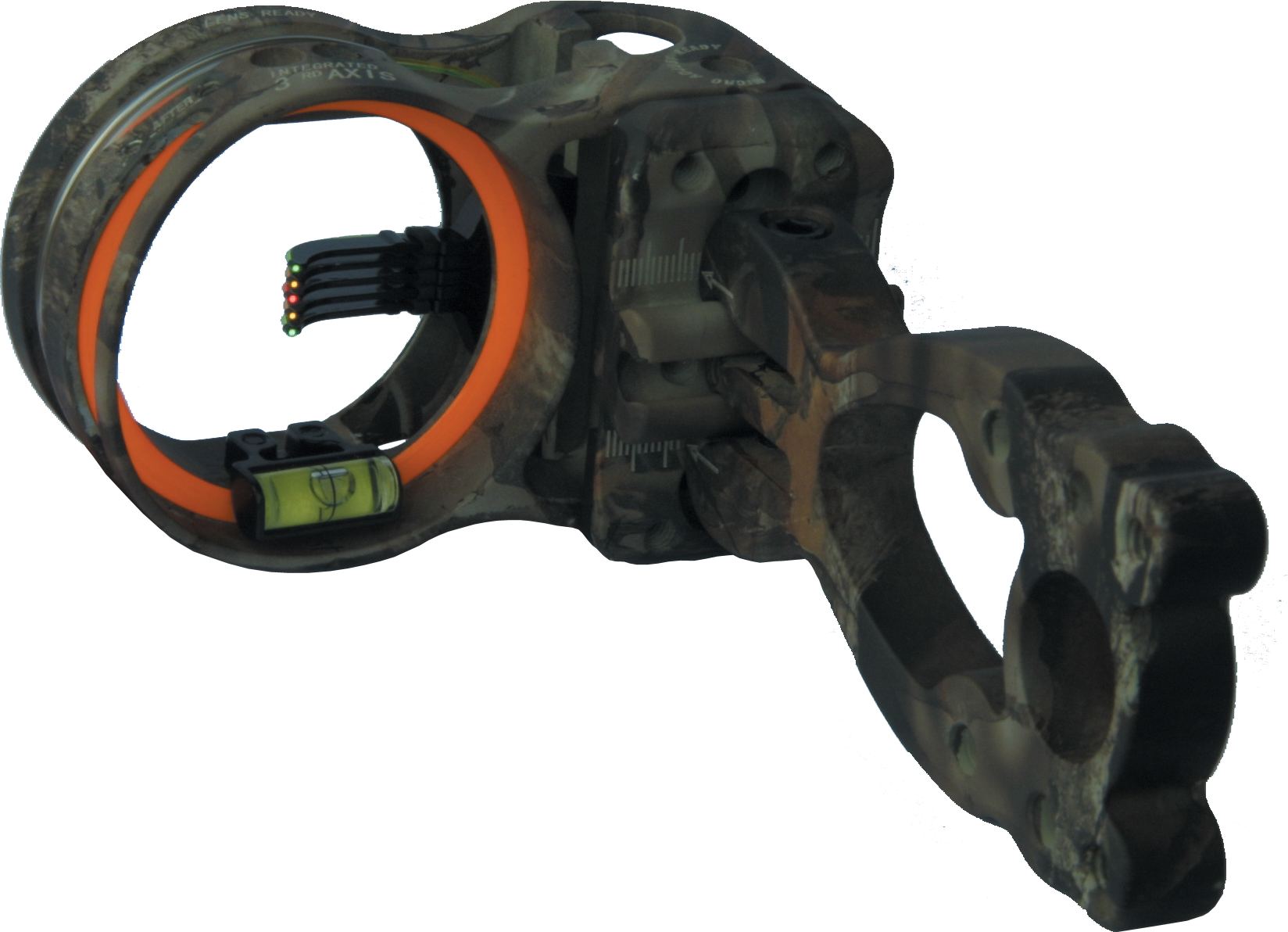 COPPER JOHN DEAD NUTS MARK III
Copper John makes great bow sights that won't break the bank. One model you may want to consider is the Dead Nuts Mark III. This sight has some great features including Iron Clad fiber optics that are reportedly 30% stronger than other fibers. The decals on the Mark III including the bright orange perimeter highlight is coated with vibration-absorbing polyurethane which helps eliminate the buzz. The sight has zero pin gap, making it the perfect sight for bowhunters who use speed bows like the Monster. The sight and the components are CNC built to ensure durability and laser engraved for easy adjustability. In addition, the sight has a Dual Mount Windage Bracket that has a wide adjustment window. The Mark III is a five pin sight.
EXTREME ARCHERY Z-LOCK RANGER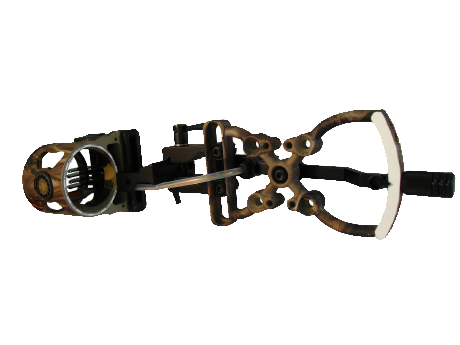 Extreme Archery has a great slider sight called the Z-Lock Ranger. This sight combines the accuracy you get with a slider that allows you to sight in your bow at exact yardages with a multi-pin sight. With this sight, you get the best of both worlds. Most sliders only have one bright pin. The Ranger comes with four extra bright pins. The sight has laser engraved windage and elevation adjustments for precise shooting and a silent bushing system so the sight never squeaks when you adjust it. The Ranger comes with a Rheostat controlled Purple Haze light.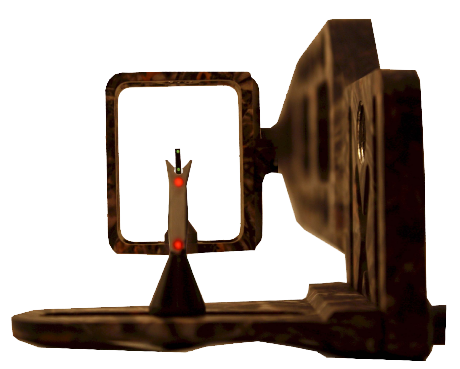 EXTREME OUTDOOR PRODUCTS ELIMINATOR PRO ELITE
Extreme Outdoor Products has the Eliminator Pro Elite for bowhunters who don't like using a peep sight. This sight uses rear sight technology with front pins to create a sight that is easy to aim and see at the moment of truth. This sight functions like a rifle sight so it is quick and easy to learn. The sight is available in a 3, 4 or 5 dot system in the vertical setup or a 3-or 5-pin configuration in a horizontal setup.
G5 OUTDOORS OPTIX ROCK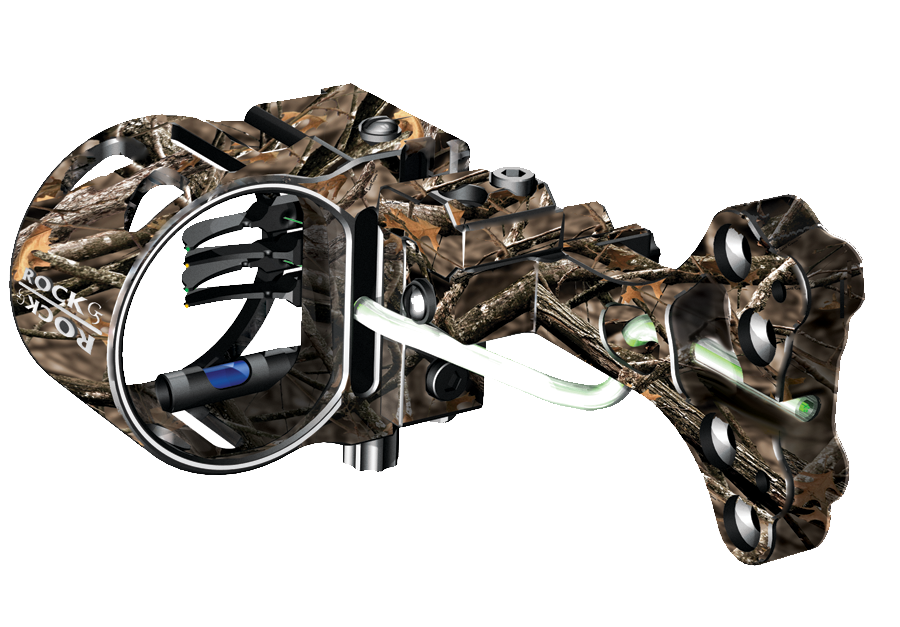 G5 Outdoors is known for thinking outside the box and creating great products. The new Optix Rock bow sight is an outside the box design. The long list of innovations you will find on this sight include rack and pinion micro-adjustment pins that are very easy to adjust, Dual Track Slots for today's high speed pin gaps, over two feet of fiber optic fiber and second axis adjustability. The 100% aluminum constructed sight is available with all metal four or six pins.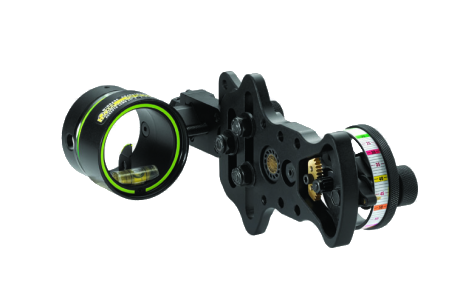 HHA OPTIMIZER LITE
The HHA single pin sight is one of the top selling single pin sights in the country because it is so easy to use. The Optimizer Lite is leading the way for HHA Sports. This extra bright one-pin sight comes with three feet of fiber optic and has an adjustable yardage dial that lets archers sight in their bows to the yard, out to sixty yards. This sight comes with a built-in Mathews Harmonic Damper. The sight has a 1-5/8" housing and provides a large field of view. It accepts a magnified lens kit and a blue burst light. HHA is also offering adjustable multi-pin sights for 2012.
SCHAFFER ARCHERY OPPOSITION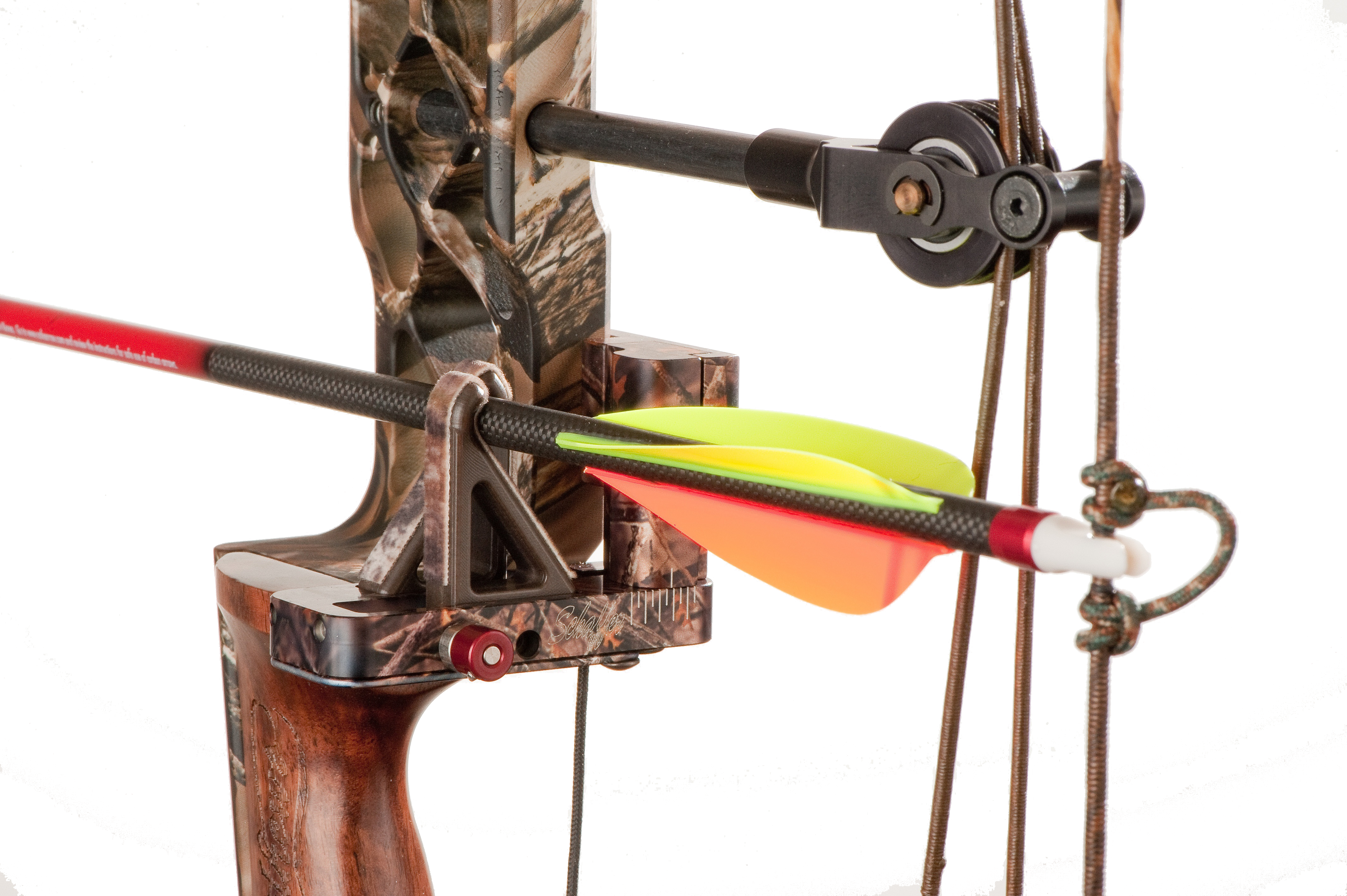 The Opposition bow sight from Schaffer Archery is very unique. Instead of having horizontal pins that only come from the right side of the housing, the Opposition has three pins on the right and three pins on the left, creating a broader field of view. This helps hunters acquire their desired pin faster when aiming. The sight can be purchased with four or six pins. The sight can be purchased with a quick-detach pivot lock arm that allows hunters to remove and put the sight back on the bow in seconds without sighting the bow back in. The pivot lock system on this sight operates like Mathews Archery quivers. The sight has durable stainless steel pins and the fibers are completely protected from the elements. It has a bubble level and light that can be purchased for the sight.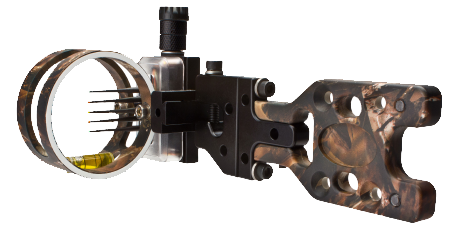 SWORD TWILIGHT HUNTER
The Sword Twilight Hunter is a five-pin sight that has zero pin gap and is perfect for today's super fast Mathews bows. It is made entirely of aluminum so it is strong and lightweight. The Twilight comes with laser etched windage and elevation scales and has a large 2.25" round aperture for easy peep sight/pin acquisition. The sight has a screw-in light which makes seeing your pins easy in low light conditions.
TRIJICON ACCUPIN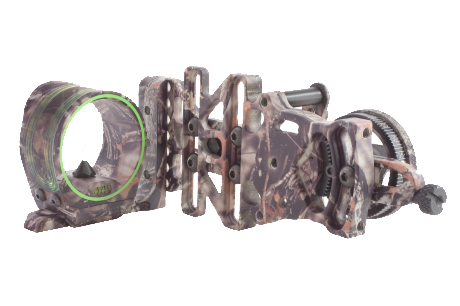 Trijicon is a name that is well known in the gun industry for making great scopes for hunting and the military. They are now offering a bow sight that comes with some of the great features people are accustomed to seeing on their gun scopes. The new sight is called the AccuPin. The sight comes with an AccuDial that allows hunters to adjust their sight yard by yard, out to eighty yards. If a bow is sighted in at twenty yards and sixty yards, hunters will be dead on at every yard out to eighty yards. Each yard marker is laser etched into the dial so hunters don't have to worry about a piece of tape coming off the dial like the cheaper bow sights often come with.
One unique feature of this sight is the pin itself. It has a clear post with a bright green triangle tip that contains extra bright tritium that creates a precision aiming point with zero obstructions, giving hunters an unmatched field of view. It makes acquiring the target quick and easy when aiming.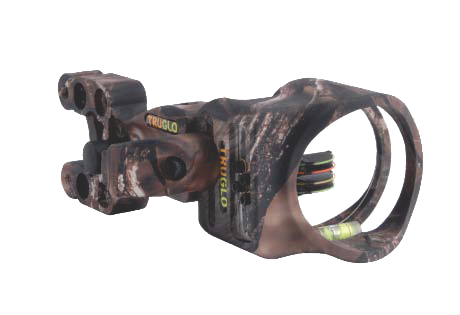 TRU GLO CARBON XS
More archery gear is being made out of carbon because it is super tough and super light. One example of a sight built from carbon is the Carbon XS Sight from Tru Glo. It is made of carbon composite and weighs less than 3.5 ounces. It is coated in Tru Glo's soft feel technical coating, Tru Touch, which makes the sight super quiet. The sight has a micro push button light, extra-long fully protected fibers, a glow-in-the-dark shooters ring and level.
VIPER ARCHERY DIAMOND BACK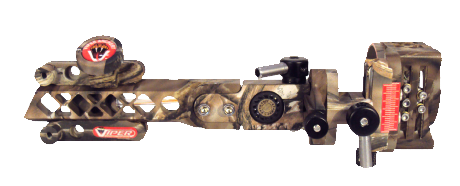 Viper Archery is offering the Diamond Back Series which will look great on any Mathews bow because the CNC aluminum sight is machined to match the grid-lock riser found on the Mathews bows. The Diamond Back Series comes with a Mathews Harmonic Damper which quickly destroys vibration and noise after the shot. The sight comes with extra durable razor-edge pins that are tough and bright. It has separate windage and elevation adjustments for precise leveling and comes with Viper's super bright red level. The sight is available in a MicroTune model, Fixed Plate MicroTune and a new Dovetail model that includes a 6-inch extension with a third axis.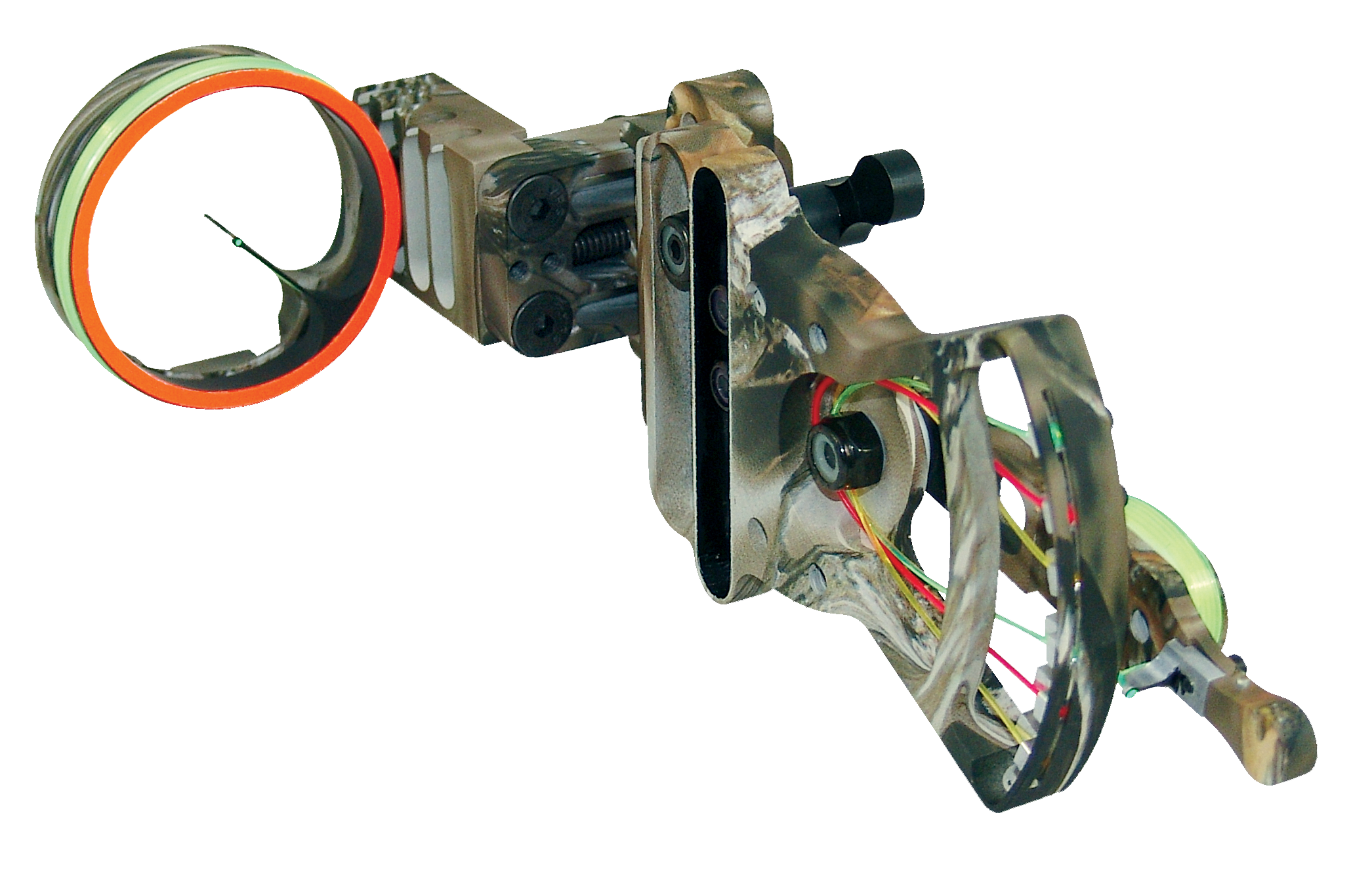 VITAL BOW GEAR StarPRO
Vital Bow Gear has a new sight called the StarPRO that comes with a number of great features. You can purchase the sight with angular or vertical pins. Both options give you a larger field of view than typical horizontal pins. The sight has micro adjust windage and gang adjustments. The sight is wrapped with one yard of fiber optic material for increased visibility. The ring, pins and adjustable yardage marker glow for easy adjustment in low light conditions.