Lost Camo® Products
The first line of defense against an animal's vision is the camo you wear while in the field. Lost Camo® is available on some of the finest hunting apparel and accessories in the world to help keep you hidden from even the most wary critters.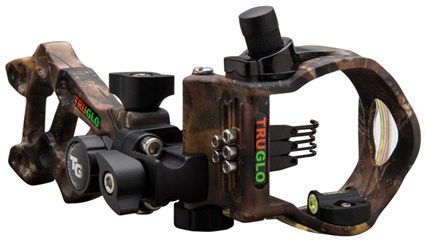 TruGlo Rival Hunter 5-Pin Sight Lost Camo
TG5605L
• Patented Decreasing Diameter Pin Design uses smaller pin sizes for longer yardages — see more of your target.
• TRU•TOUCH™ soft-feel technical coating.
• Ultra-fine click adjustment for windage and elevation.
• Micro push-button light.
• Adjustable 2nd and 3rd axis level with two vertical bars.
• Extra-long, protected, wrapped fibers.
• Precision pin alignment eliminates distortion.
• Large circular field of view.
• Aperture has a 1.8" inner diameter.
• Reversible bracket for greater vertical adjustability.
• Adjustable for left and right handed shooters.
Also available in 3-Pin TG5602L