Lost Camo® Products
The first line of defense against an animal's vision is the camo you wear while in the field. Lost Camo® is available on some of the finest hunting apparel and accessories in the world to help keep you hidden from even the most wary critters.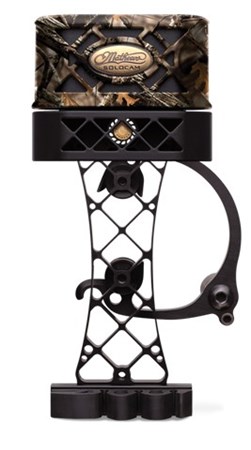 MATHEWS®ARROWWEB® CT™ QUIVER
ArrowWeb® CT™ is Mathews®' lightest, most compact quiver to date. The CT™, which stands for "compact," features a reduced profile that improves bow balance while shaving excess weight.
At a glance, the first thing you'll likely notice is the new GridLock™ hood which parallels the latest technology
found in Mathews®' bow risers. The new ColorShield™ hood-inserts come in 10 distinct colors and enable shooters to match their quiver color with their other Mathews® Genuine Accessories.
The ArrowWeb® CT-Series™ Quiver will accommodate expandable or
fixed blade broadheads up to 1 1/8 inch. 
The redesigned foam insert will keep your blades quiet and in place while the new removable BladeShield™ (included) will keep your edges sharp and fingers safe.
Other noteworthy features include the new Quick Release arrow grip, Spider Claw® quiver mount and Harmonic Damper®. We invite you to check out the Mathews® ArrowWeb® CT™ quiver in its 10 available colors at www.mathewsinc.com. For purchase, please contact your nearest Authorized Mathews Retailer.