Lost Camo® Products
The first line of defense against an animal's vision is the camo you wear while in the field. Lost Camo® is available on some of the finest hunting apparel and accessories in the world to help keep you hidden from even the most wary critters.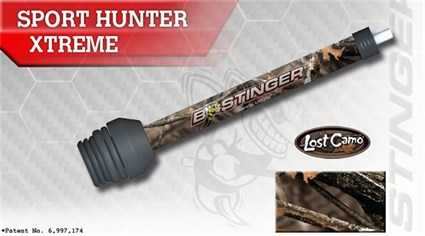 Sport Hunter Xtreme Stabilizer by Bee Stinger
SPHX10LS
PRODUCT DETAILS
This season, take your shooting to the Xtreme! The Sport Hunter Xtreme was engineered to help provide superior stabilization while conquering shot-induced vibration, resulting in the ultimate hunting stabilizer. The Sims Internal Harmonic Dampener and De-Resonator combine to effectively minimize vibration transferred from the riser to the stabilizer upon release of the arrow. The individual 1 oz. end-weights allow users to customize their stabilizer to meet the ideal balance requirements of their particular hunting bow. Together, it equals added confidence to make YOUR shot of a lifetime.
SPECIFICATIONS
● Includes (3) 1 oz weights
 Available in Lost Camo or Lost Camo XD
Available in 6", 8" or 10".