Lost Camo® Products
The first line of defense against an animal's vision is the camo you wear while in the field. Lost Camo® is available on some of the finest hunting apparel and accessories in the world to help keep you hidden from even the most wary critters.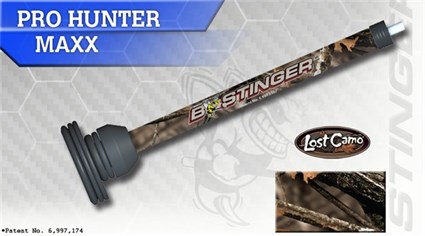 Pro Hunter Maxx Stabilizer by Bee Stinger
PHM10LS
PRODUCT DETAILS
When you're ready to draw back on that trophy of a lifetime, the last thing you need is a wandering pin. The Pro Hunter MAXX is engineered to keep you steady under pressure while reducing vibration. Its patented design delivers maximum moment of inertia, providing greater shot control and the confidence you need to drive your arrow home. The Pro Hunter MAXX is based around a high modulus carbon rod providing ultra-stiff construction. The Pro Hunter MAXX features three independently removable end weights for customized balance and performance. Sims Internal Harmonic Dampener and De-resonator perform double-duty on shot-induced vibration, assuring ultimate control before, during and after the shot.
SPECIFICATIONS
● Includes (2) 4 oz & (1) 2 oz weights
Available in Lost Camo or Lost Camo XD
Available in 8", 10" or 12"