Lost Camo® Products
The first line of defense against an animal's vision is the camo you wear while in the field. Lost Camo® is available on some of the finest hunting apparel and accessories in the world to help keep you hidden from even the most wary critters.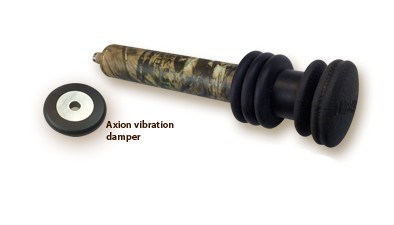 Axion Z Stick Stabilizer
AAA-4006
The new "Z Stick" 6", 8" and 10" Stabilizer was engineered by using a Sims Stabilizer Enhancer combined with the new Axion metal/rubber 1 ounce dampener. It provides the perfect balance of vibration dampening and weight forward to reduce torque, resulting in the ultimate hunting stabilizer. The individual 1 oz. dampener allow users to customize their stabilizer to meet the ideal balance and weight for their particular bow set-up.
AAA-4006 6" (5.8 OZ)
AAA-4008 8" (6.0 OZ)
AAA-4010 10" (6.2 OZ)
AAA-4030 3 PACK VIBRATION DAMPER 1OZ.