Lost Camo® Products
The first line of defense against an animal's vision is the camo you wear while in the field. Lost Camo® is available on some of the finest hunting apparel and accessories in the world to help keep you hidden from even the most wary critters.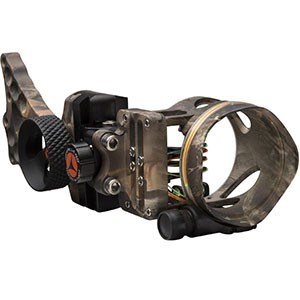 Apex Covert 4 Light
AG2314L
The COVERT™ archery sight family has grown giving you the choice between either a single–pin featuringVERSA•PIN™ TECHNOLOGY or an adjustable four-pin model. The VERSA•PIN™ TECHNOLOGY allows you to change pin size and color in seconds. The four–pin COVERT™ is equipped with a roving bracket, helping make it the ultimate multi–pin hunting sight. Locked, the COVERT™ four–pin works like a traditional fixed pin sight. Unlocked, it can be dialed in for deadly accuracy.
Ultra smooth easy one–hand adjustments.
GRAVITY–LINE™ rotational adjustment aligns pin movement with gravity.
Includes over 60 pre–marked yardage tapes to simplify setup.
Rear–facing, easy–to–see yardage tape location.
Perfect for any light conditions.
Adjustable 2nd and 3rd axis illuminated level.
Quick and easy setup.
Bracket incorporates dampened end–of–travel stops.
Adjustable yardage pointer.
Adjustable for left and right handed users.
Patent Pending.
Price: $172.00